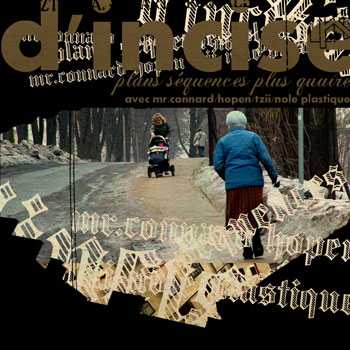 AA06: d'incise - Plans Séquense Plus Quatre
style: electroacoustic, glitch, noise, drone, darkambiant, clik'n'cut
date: 2006-04-18

1. exotisme à petite échelle
2. neige sale glace crisse en pente
3. plan complémentaire 1: monsieur connard - dl6/rmx/MRC001
4. l'insistance du charbon
5. pv_tlz_pre+post
6. plan complémentaire 2: hopen - hayward plains
7. weakness
8. rebord cimetière pour gasteropodes
9. plan complémentaire 3: tzii - le chien exotique
10. présence canine
11. plan complémentaire 4: nole plastique - présence canine rmx
12. regarder les toits entre les persiennes
13. relative géometrique

71min / 124Mo

download the full album + covers in a .rar.

"plans saccadés, séquences de bruit, travelling internes, scènes extraites de leur contexte, acteurs ailleurs, brusques changements d'angle, des villes, cieszyn, lucerne, genève, bruxelles, kazan."

d'incise website
hopen website
nole plastique website
tzii website
mr.connard website


ces enregistrements sont mis à disposition sous un contrat Creative Commons.
this recordings are under a Creative Commons license.
copy, share, burn, P2P, offer, thank you for that, please keep the whole records complete with all its elements.